My son has been here for about three weeks.My son used to go to another kindergarten before. But He hated to go to kindergarten every morning. But after moved here He enjoys going to kindergarten.I guess classroom is expanded, it is not stuffy and play in front of kindergarten in the morning, and most of all, it seems that it is comfortable with teacher just like friends.I am also very happy to learn Montessori diocese every day.
When I go to pick up my son, all the other friends smile and greet me. The children are so pretty.
The place is brand new with open space concept (quite suitable for Montessori education), the teachers are very friendly and communicate child's progress and activities to parents very well, also many crafts and activities for kids, I definitely recommend it.
Daughters – Alana Ilham (3½ years) & Ayra Sumaiya (3½ years)
We love the set up especially for your outdoor activities (children should play outdoor). The fact that you do not have so many students and we love the teachers! Oh, and we like that it has all the safety precautions. We can see that our girls are happy when they come home, eager to go to school. And we love that you keep us updated daily. (Sparkles Daily Report for infants & toddlers). I think you are doing a wonderful job now. Will let you know if you need improvement!
Son – Kodai (4½ years)
My friend's son went to Sparkles and she invited to come & see (in Jan 2010). I like that the school has a playground outside. Lots of excursions! It is a lot of fun for me to go together with my kid.
Daughter – Ho Jia-Yi (3½ years)
We chose Sparkles because it is near our house and it uses Montessori as a teaching tool. Our girl was able to adapt and adjust to school very quickly. She was able to recognise A-Z, 1-10, Monday – Sunday and January – December after only attending school for 4 months.
Son – Aryan Sharma(4½ years)
I like the ambience of the school. Less children per class so attention is given per child. Aryan has shown a lot of improvement ever since he has joined, as in language, manners and he is more independent now.
Daughter – Yuri (6 years)
We feel Sparkles gives us a good Programme, which is very helpful for our daughter. Yuri has good experiences in Sparkles, how to play and communicate with her friends. And she has learned good English. (Yuri has been in Sparkles for 3 years)
Son – Nor Armeel Norman (5 years)
We like the fact that the classes are moderately sized and distance is close to our residence. Armeel refused to attend any other kindergarten. I tried at least 3 others before this. He loves Sparkles. Keep up the good work!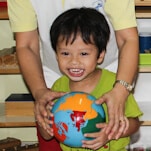 Son – Lucas Lam (4 years)
I evaluated a few Montessori centres before deciding on Sparkles. I chose Sparkles because it seemed friendly and homely. Lucas has improved in his EQ. He is learning to share although still has a lot to learn.
​
Dr Lim Chun Sen & Mdm Leong Wai Meng
Son – Edmund Lim (4 years)
There are a few reasons why we chose Sparkles – the distance is quite near our house, the environment of study was spacious, clean & tidy, We felt comfortable with the ratio of teacher to student. We have great assistance when his grandfather was away for holiday and we have the support of day care services. Besides that we are grateful for the support given when Edmund was on cloth diapers (due to sensitive skin).
Daughter – Dora (4 years)
My daughter, Dora is very happy to go to Sparkles. It is like a big family, I like that it is in a house, so they can play in the garden daily. Dora loves her teachers, and has a lot of friend, younger ones and older children as well. Because it is a mixed age group for some of the activities, she learned that she needs to be patient or comfort the younger ones, and she can learn from the older kids. There is always something interesting at Sparkles, we love the celebrations, and that parents are also invited. Dora learned a lot at Sparkles, and she is very happy to go in the mornings. Thank you!
Schedule A School Tour with Us Today
We look forward to welcoming you at our centres and will be happy to show you around and share with you on how we can provide your child with the education experience that you want.